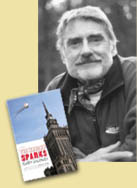 Writer Gary Gildner, who grew up in Flint and has since penned twenty books encompassing fiction, memoir and poetry, is coming back to his hometown for a visit to UM – Flint and to do a community reading at 7 p.m. Monday, Sept. 29. The reading, celebrating the re-issue of his 1990 memoir of coaching a Warsaw, Poland baseball team, will be in the Tuscola Rooms of the William White Building. A book signing and reception will follow. Gildner's works include My Grandfather's Book, Blue Like the Heavens, and The Bunker in the Parsley Fields, which won the Iowa Poetry Prize. In his long career he also has received the National Magazine Award for Fiction, Pushcart Prizes in fiction and nonfiction, the Robert Frost Fellowship, the William Carlos Williams and Theodore Roethke poetry prizes, and two fellowships from the National Endowment for the Arts.
Of his latest book of poetry, Cleaning a Rainbow, critic Paul Zimmer wrote,
"Here he comes again with a new book of poems—Gildner, the kid from Flint, the jaunty pitcher/shortstop, the quarterback from Holy Redeemer, a genuine American article, still in love with the 1950s and being young, still showing us the fancy moves and surprising turns that inevitably swerve his poems toward the reader's affections. He still has the briskness and inventiveness, but these poems are wiser, more practiced, embracing a new kind of resolution."
Gildner's mother and a number of other relatives and many friends still live in the area. He said when contemplating his reading tour for the reissued memoir, his stop in Flint is the one he is most eagerly anticipating. Before the evening reading, Gildner has agreed to meet with UM – Flint introductory creative students and a creative writing workshop of graduate students in the M.A. in English program taught by Jan Worth-Nelson. His visit also is being coordinated with a class in Polish history and culture taught by Dr. Theodosia Robertson, who sponsored a visit by Gildner 15 years ago when The Warsaw Sparks first came out.
Gildner's connection with Poland began with his Polish grandfather, Steve Szostak, whom Gildner often visited at his Northern Michigan farm. His grandfather was buried on Gildner's eleventh birthday with a book by Joseph Conrad. According to the jacket blurb on the memoir Gildner eventually wrote about his grandfather, "Just before the undertaker closed the coffin, Gildner's grandmother Nelly quietly placed the book she'd found her husband holding at his death in the casket. "Always this Korzeniowski -- even on his last day -- and why?" Nelly asked her grandson almost two decades later. It was in this moment -- discovering his grandfather's devotion to Joseph Conrad -- that Gildner realized the man he had followed around on a northern Michigan farm was someone considerably more. Inspired by Szostak's love of Conrad, Gildner embarked on a journey of self-discovery that took him from the Tatra Mountains in Eastern Europe to the Clearwater Mountains in Idaho, finding where the truth begins in his own life."
When Gildner's most recent poetry book came out, fellow poet Dave Smith commented, "Gary Gildner has written splendid poems for forty years and Cleaning a Rainbow is a most welcome collection, bright and sassy in the language that William Carlos Williams would have said was made of "the local," that life of children, lovers, home, of complex mysteries just beyond the edge of our hands and ears and eyes. He reminds me of Randall Jarrell's praise for a language that even cats and dogs can read, the hardest thing in the world to write well. Gildner is as good as a clear night for seeing things."
More information is available by calling the English Department at 810-762-3285.