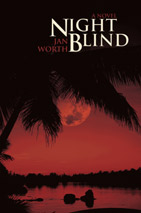 "Jan Worth published her great novel Nightblind herself (with iUniverse) and thank goodness she did. She worked on it for about thirty years she says in the Acknowledgements.
Worth's book is splendid and delightful, wise and witty and rich. Twenty times better, say, than something like Eat, Pray, Love...." (Read the full review...)





This is it.

I've liked Shelly Kopp's 43-item Eschatological Laundry List (a "partial register of eternal truths") since the 1960s. You could get a poster of it in any "head shop," back then, and many of us hippie kids plastered it onto our dorm room walls.
I still like it. It makes me smile. It's still part of my life.
The Number One "eternal truth"?
"This is it."
Simple, right? But it has taken me into my 60s to internalize and enact that three-word declaration. When you get to a certain age, for example, you never know how much time you have left, and you don't want to waste the lovely present by fretting about the past. . I am ruminating on all this. I have a mug from a local deli, that says, quoting Goethe, "Nothing is worth more than this day." I can't always buy that, but I see the point.
This site reflects a new phase in my life -- a time of sorting through old hopes, dreams, and pleasures, and discarding outworn scripts. It's a time of re-invention and absorption in what I care about. I have retired from 26 years of teaching at UM - Flint. We have bought, rehabbed and moved into a beautiful house in one of Flint's oldest neighborhoods.
I have a yellow writing room. It faces out to a leafy, green yard and a bank of intersecting, overlapping rooftops. My writing life is re-emerging, my energies far from spent.
And, I'm finally admitting, after years of dithering about it, that I'm bi-local. That is, I have two places I call home.
This marriage to my California guy seems to be thriving, and it looks like our dual domicile life is going to last. (See "On Late Marriage"  or under Essays for more on this.)  Now that I'm retired, I can spend the winters in San Pedro and the rest of the year as I please in Flint. 
All good material for writing and for life. I feel rich with experience and choice. I hope you will find pleasure here. 
Take what you will.  After all, this is it.
To read the whole essay about being "bi-local," which appeared in the September, 2014,  East Village Magazine, click here or go to Essays on the link above.


More from Essays
Stay at Home Dads:  Saints, Freaks or Both?  
"The four dads say Flint, in contrast to its reputation, is a good place for unconventional family arrangements. With their wives, each worked out a complex calculus around Flint's low cost of living, who had the better benefits and the high price of quality child care. Separately and across a period of several years, like a growing number of families across the country, they came to the same conclusion — it's better if Dad stays home."
Chicken Lady Keeps on Truckin'
"I never intended to be a pioneer," Flint's "Chicken Lady" RoanneAdair says, "I just wanted to eat good food."
USC Registrar Has Gandy Dancer Bones
"The child of a man who worked at Chevy-in-the-Hole's Plant Four his whole adult life and the grandson of a longtime Grand Trunk Railroad worker, Doug Shook, 60, says he was not just "blue collar."  He says he was "no collar" — working demanding outdoor jobs by day, riding motorcycles and partying by night"

Ordinary Dirt
On my knees in ordinary dirt, last quarter of my life and mid-October, I clear a space in crinkly leaves for digging holes, a pile of tulips at my side. I scoop out mounds, where beetles shamble over lumpy clumps. It's city dirt, cicada shell and titmouse scat and stuff of upright lives, cracked caulk, flaked paint, a shard of tea-stained mug. I could go down so deep I'd find an arrowhead, clay pipe, a wooden flute. But now I'm digging just enough for spring, my muscles, skin and nerves conjoined. The pungence draws me down, my body recognizing home.
Copyright Jan Worth-Nelson, Reprinted from Driftwood 100-word issue, "Earth," Winter 2009.






Night Blind: Top Ten Finalist in Literary Fiction, ForeWord Magazine "Book of the Year" Awards for 2006 books from independent and small presses.

Night Blind is the saga of a ragtag bunch of Peace Corps volunteers grappling with a murder in the remote and eccentric Kingdom of Tonga. For more, click here...